Trekking into another exciting Ele Season!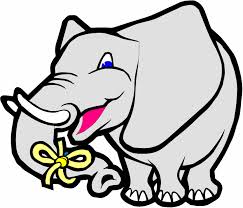 Our Elephant will never forget you! Thank you for all your support!
Here's a heads up on the re-opening and whats been happening on site, as we trek towards another exciting Ele Season!
On Friday 26 September, The White Elephant Cafe reopened for the 2014-15 Season with some much needed upgrades, including a new kitchen fitout and front servery, as well as some cosmetic improvements to enhance the appearance.
A little bit of history... the evolution of the elephant began when Anthony Janssen first took over the lease in December 2010.
The 'Save the White Elephant' Campaign enabled Aj to secure a 10 year lease and complete some immediate works, including the huge timber deck.
This year, Anthony Janssen has joined forces with Alex Brooks of the ever popular Morries Anytime coming onboard as partner, and renowned chef 'Rosie' Carolyn Griffiths, also from Morries, will be working closely with the crew down at the 'White Elephant' to bring an improved product, new menus, quicker service and an all round better offering for the local and tourism markets.
"We hope that people can appreciate the effort that has gone into the 'behind the scenes' operations" Anthony said. "The improvements enable us to run a more streamlined operation and we really want that to reflect in our product".
"The space has been designed to work in with and compliment the existing facility, incurring little distruption to the environment and minimal footprint overall". "We have consulted closely with Coastal Engineers, The Shire, The Community and the local Coastal Residence Association, to deliver a practical, desirable outcome to this sensitive site" he said. "Unfortunately due to the severe storms in 2013 the building was scaled back based on advice received in the coastal engineers report".
Furthermore, on the 2015 horizon for the White Elephant are the plans for stage two of the build which will see an enclosed all weather area to be enjoyed for an extended season, customers will be able to enjoy an open fire and uniterupted views to make the most of the amazing location. With all approvals in place, the build will be complete by the 2015 season.
Stay up to date on our Facebook Page!
The White Elephant Cafe opens daily from 7.30am until 4ish!