Anthony Janssen Wins Business Award
Last night in the packed ballroom at the Perth Exhibition and Convention Centre, Margaret River Hospitality Group (MRHG) Managing Director Anthony Janssen was presented with the prestigious Business News 40under40 Award. He was also one of five finalists in the pool of 40 for the top accolade known as First Among Equals.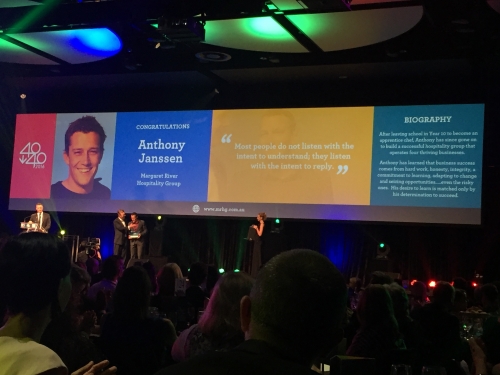 A second-time recipient, 34-year-old Janssen also received the 40under40 Award in 2011.
"I'm honoured and truly humbled to receive another 40under40 award," Janssen said.
"To be listed alongside some of the State's smartest, youngest and most savvy business people feels a little surreal, it's a great privilege.
"This award is an acknowledgement to my business partners Alex Brooks and Tony Howell, and the entire team at MRHG too. It takes a great team to run four businesses successfully, and I love the culture we've created across all our venues."
About 700 people from WA's business community and Government attended the awards dinner last night.
40under40 Awards have been recognising excellence among WA's young business elite since 2002.